Ah, Amazon Prime Day. Another superfluous reason to spend more money on books. Prime Day sometimes has the reputation for being a little lame and, to be honest, this year was no different. Still, combined with the $5 off $15 deal, I managed to add a few more titles to my library.
Here's my Amazon Prime Day (mini) book haul ranked from least to most anticipated read:
The Last Painting of Sara de Vos
Goodreads rating: 3.84 (15801 ratings)
The Goodreads blurb describes this as "a collision course between a rare landscape by a female Dutch painter of the golden age, an inheritor of the work in 1950s Manhattan, and a celebrated art historian who painted a forgery of it in her youth." Ok, I confess: I bought it for the cover!
The Revenant
Goodreads rating: 3.92 (28206 ratings)
I learned of the movie nomination before I knew it was a book. I have fond memories of reading Hatchet when I was a kid so I figured it's pretty much the same right? Except for maybe the part about sleeping inside the rotting carcass of a bear for warmth bit…
The Paper Man
Goodreads rating: 4.13 (77 ratings)
I was really surprised to find this title among the Amazon Prime deals. Especially after seeing Russell, from Ink and Paper blog, give it a glowing review on his booktube channel. From Goodreads: Michael was only 15 when a mysterious accident changed his life forever. He was rebuilt out of paper by his father, and ten years later he is still trapped in the paper version of his teenage body.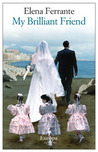 My Brilliant Friend
Goodreads rating: 3.88 (84655 ratings)
This. Book. Is. Everywhere. So, into the cart it went!
---
Now, let's see how quickly I can get these in reading rotation. Any other readers find gems during the Amazon Prime Day sale?