Another month, another wrap-up! This time, in celebration of Women's History Month, I assigned myself a reading list of books written by female authors. As usual, I've listed my mini-reviews below in order of least favorite to favorite.
Summer Days and Summer Nights: Twelve Love Stories by Stephanie Perkins
My rating: 2 of 5 stars
This is a compilation of short stories all around the central theme of young love in the summertime. It sounds cute, and occasionally, there are few gems in this book that warmed the cockles of my cold, dead heart (Head, Scales, Tongue, Tail by Leigh Bardugo comes to mind). But really, it reads like a sophomoric collection of incomplete and often super boring, unremarkable vignettes. Maybe I'm being a little unfair, after all, summer romances are supposed to be light and fun. But this was a true test of my endurance for YA cliches and after awhile, I was too fatigued to bother, so I demoted it for bathtub skimming.
Salvage the Bones by Jesmyn Ward
My rating: 2 of 5 stars
This book won the National Book Award in 2011 and is practically universally praised. So I was really surprised with how much I struggled to finish it. This is a story about a black family in rural Mississippi prepping for the arrival of Hurricane Katrina. There's no denying that Jesmyn Ward is a great writer. She describes scenes and people in vivid, almost excruciating detail. Ward spends a lot of time describing how the siblings are feeling through the twitches, contractions and expansions of their muscles just beneath the skin. And, I hated it. Most surprising of all is the fixation with China, the family's prized fighting pit bull, who I guess is supposed represent motherhood or something? Not only did I feel like I learned next to nothing about the family but it all just felt so pointless. Hard pass.
Margaret the First by Danielle Dutton
My rating: 3 of 5 stars

Margaret the First is a fictionalized novella of real-life figure Margaret Canvendish, known for being an eccentric (for the time) renaissance woman. The book is short and written in a way that gives you an inside look into Margaret's prose-like contemplation on women, writing, fashion and nature. Given more time, more substance, I feel like I could've grown to love Margaret and her peculiar way of looking at things but I'm never really given the chance. The book is enjoyable but way too short and cheeky to make a lasting impact.
Peter Panzerfaust, Vol. 1: The Great Escape by Kurtis J. Wiebe
My rating: 3 of 5 stars

What if Peter Pan was set during World War II? And what if Peter Pan wasn't a plucky kid from a magical Neverland but a dashing, reckless American soldier? Aaaand, what if the Lost Boys were actually a group of rescued French orphans who decide to take up arms with Peter? That's it, that's the plot for this so-so but kinda pointless graphic series. The artist does a fantastic job bringing Peter to life with bold panels that silhouette him on top of rubble or poised with a gun. Still, we see so little of Peter in this first volume that I'm not compelled to continue the series.
Marlena by Julie Buntin
My rating: 4 of 5 stars

This slice-of-life, coming-of-age book follows Cat and her memories of Marlena, her wild and troubled neigbhor turned best friend. This quiet book follows two teenagers as they explore drugs, love, relationships and each other while teetering towards self-destruction. Marlena dies young, tragically under unclear circumstances that haunt the main character for years. Marlena is a deeply melancholy book about the friendships that can make and unmake us.

The Rending and the Nest by Kaethe Schwehn
My rating: 4 of 5 stars
After reading Bird Box late last year, my appetite for weird little books has been growing. And the premise for this book is truly bizarre: when 95% of the earth's population disappears with no explanation, Mira and a group of survivors build a community, scavenging piles of objects for anything they can use or re-purpose. Then, the women in their compound become pregnant, giving birth to inanimate objects, again with zero explanation. Wait, what? Yeah, you heard me.
This is an absurd little book that examines motherhood, faith, regret and explores how story-telling can be destructive or redeeming. There are a couple of pockets where the plot lags when Mira is weighing her options about what to do next but overall the book is an entertaining, page-turner that left me thinking about what-if scenarios long after I put it down.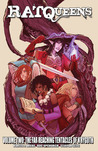 Rat Queens, Vol. 2: The Far Reaching Tentacles of N'rygoth by Kurtis J. Wiebe
My rating: 5 of 5 stars

This series takes everything I want to love about fantasy genres and modernizes it with a cast of diverse, brash, funny women. The plot is meh, designed to place our characters in certain situations just to let them shine. It doesn't bother me because the series is just so much fun. Unfortunately, I ended up giving up on reading later volumes thanks to a controversy in early 2016 that basically doomed the series.
Pachinko by Min Jin Lee
My rating: 5 of 5 stars

My favorite book of the month. This book is a multi-generational saga about a Korean family's life in Japanese-occupied Korea during the early 1900s through World War II and finally in modern Japan during the 1980s. It's a big book that I consumed at break-neck speed. I was so eager to find out the fate of each family member as they faced discrimination, abject poverty, violence, war, loss and love. I'm pretty sure I'll be reading anything by Min Jin Lee from now on.
Born a Crime: Stories from a South African Childhood by Trevor Noah
My rating: 5 of 5 stars
I wasn't expecting to pick up this audiobook this month but when the Gods of the Library Holds smile down on you, you don't deny them. I had heard so many great things about this book and they're all 100% true. Not only is Trevor Noah a delight to listen to (his accents and voices are fantastic) but he is a true story teller who knows how to deliver key pieces of information for the ultimate payoff (the Hitler dance-off story comes to mind). This is a book that absolutely must be listened to – Trevor Noah's cadence and gift for storytelling made me feel as though he were sitting in the passenger seat of my car while I sat at my destination trying to finish another chapter. I am completely enamored with him.
The ones that didn't make it:
You know DNFs are a funny thing. When I abandon books, it's not always because a book is so bad as to be unfinishable. Sometimes it's just a matter of reading in the wrong place at the wrong time.
Rat Queens, Vol. 3: Demons by Kurtis J. Wiebe
I finished volumes 1 and 2 of Rat Queens in short order. The story was light, the dialogue sharp and fun, and the characters diverse and unusual. Unfortunately, the series came to a screeching halt after a controversy with the original co-creator. I didn't like the new artwork and despite co-creator Kurtis J. Wiebe remaining on board for volume 3, the story and dialogue just felt flat.

The Wrath and the Dawn by Renee Ahdieh
I thought this would be the perfect palette cleanser in between my more "serious" reads. This has all the YA cliches we all know and love to hate: insta-love, vapid storytelling, one-dimensional cardboard characters, and a plot that goes absolutely nowhere. I was so sure I was going to enjoy this series that I went ahead and purchased the sequel from BookOutlet.com, which taught me a valuable lesson: don't do that.
Registers of Illuminated Villages: Poems by Tarfia Faizullah
I saw this poetry collection make a few rounds on bookstagram from independent booksellers so, I decided to request this from my local library. To be honest, I have the attention span of a goldfish when it comes to poetry. I've never really taken the time to educate myself on verses or rhythm. I find poetry too abstract in a frustratingly mathematical way. Like, just tell me what you want to tell me. I have things to do.
Registers of Illuminated Villages is actually pretty good but it couldn't sustain my interest. I felt like I got the "gist" about a 1/3 of the way through so I opted to abandon it for something else. It's OK, you can judge me.
That concludes my reading wrap-up for March! For the month of April, I'm cutting myself a break to pick up books at leisure without adhering to a set TBR. Did you have an assigned reading list for March? How did it go?