Happy 2019! It's time for another year of reading! Last year I read nearly 100 books, so when I was debating my GoodReads challenge for 2019, a friend suggested, "Do 100! Go big or go home!"
And, since peer pressure works, I agreed. We all know quality over quantity, but I would be intrigued to see if I can read 100 books in a year. Besides, reading is contagious. My husband, a self-proclaimed non-reader, has picked up the new habit of reading a book before bed. And I can't have him out-doing me or there will be blood.
January was a fantastic reading month. I challenged myself to read books I owned and managed to read all but one book from my personal library. In order of my highest to lowest rated, here's my January Reading Wrap-Up:
My rating: 5 of 5 starsDid anyone else experience intense feelings of reminiscence and nostalgia? Hasn't the past 2 years felt like a lifetime? Michelle Obama's book is a like a breath of fresh air.
Overall, Obama's memoir provides such great insight into her childhood, her relationships with her family, her passion for learning, her budding career as a lawyer and her relationship with Barack. She seems studious and serious but with a streak of playfulness that made her book fun to read. I will admit, the final quarter of the book felt a little too "safe" and neutral, opting for a broader perspective of the presidency and I wanted more nuance. I wanted her to get mad like I got mad but you know what they say, when they go low and so on…
If you've seen interviews of her during her book launch, Michelle Obama revealed a lot of anecdotes from her book, practically verbatim. Which meant that the second half felt kind of spoiled and lost any wow-factor it might have had before. I still gave it 5-stars because I'm a bleeding-heart liberal and, as a whole, it's truly a fantastic book.
My rating: 5 of 5 stars
Incredibly gripping and expertly told, Tara Westover's memoir of living in rural Idaho had me reading at break-neck speed. The way Westover organizes her chapters makes the book nearly impossible to put down. One chapter opens with scenes from a car wreck in which her mother, never hospitalized, suffers a traumatic brain injury. The rest of the chapter is spent revealing the fateful events leading up to the car crash.
Westover spends her youth barely surviving all kinds of scrapes and accidents while scrapping metal for her father. Her fundamentalist-Mormon family eschews grade school education in favor of a survivalist "education" at home. When Westover finally makes it to college, her painful naiveté is on full display and made me feel deeply grateful for the privilege of having a basic education. Can you imagine being a young adult in a college classroom and having no prior knowledge of segregation, Jim Crow…the Holocaust? This is a must-read.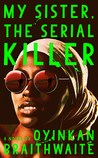 My Sister, the Serial Killer by Oyinkan Braithwaite
My rating: 4 of 5 stars How can a book about a serial killing sibling be fun? This was fast-paced and wildly entertaining. In 2 days, I sped through this book, eager to find out if level-headed, super-tidy, older sister Korede would eventually turn in her younger, beautiful, sociopath of a sister Ayoola.

The Subtle Art of Not Giving a F*ck: A Counterintuitive Approach to Living a Good Life by Mark Manson
My rating: 4 of 5 stars
The Subtle Art of Not Giving a F*ck is a humorous self-help book for people who hate self-help books. There's a lot in here that feels like common sense (i.e. prioritize what you give a shit about, remember you're gonna die one day, etc, etc) but putting it into practice always feels so much harder. The Subtle Art is super readable, funny and makes fundamental philosophical concepts relatable. Is it going to change your life? I dunno, maybe. Who gives a f*ck?
Brunelleschi's Dome: The Story of the Great Cathedral in Florence by Ross King
My rating: 3 of 5 stars
I bought this teeny, tiny little pamphlet of a book during my trip to Italy late last year. It took me 3 months to chug through barely 200 pages. Brunelleschi's Dome is a totally capable and fascinating look into the history of the Duomo of Florence. Here's my problem: I binged on all things Renaissance after my trip and watch a spectacular NOVA documentary on the construction of the dome. At which point, I considered myself a certifiable expert. Herringbone construction? Don't even get me started, bruh. If this book is your only source or introduction into the construction of the Cathedral of Santa Maria del Fiore, then you're in for a real treat. After binging on documentaries with far more interesting visuals, this book felt serviceable but kinda dull.
My rating: 3 of 5 stars
I've heard soooo many great things about Louise Penny's Armand Gamache mysteries and finally picked up a few books in the series. Still Life is considered a cozy murder mystery, set in a quiet town in snowy Quebec. Gamache is a deeply empathetic Chief Inspector who is called to investigate the death of a woman, presumably after a hunting accident.
The book is problematic yet enjoyable. Despite so many eye-rolling moments (e.g. there's a gay, café-owning couple who, in one scene and without irony, sing "It's Raining Men" – buy hey, it was published 13 years ago, cut her some slack), I found myself really invested in the characters and the outcome of the case. Even though I felt Gamache didn't do enough sleuthing to adequately move the case along (in fact, his first assumption was wrong and even though I felt the conclusion was a bit of stretch, it ended up being a perfect cozy, winter read. I plan on continuing the series – I hear they get better.
In the Country We Love: My Family Divided by Diane Guerrero
My rating: 3 of 5 stars
This book is an invaluable perspective of how a broken immigration system can result in lasting repercussions for families and friends left behind. After immigrating to the U.S. illegally, Guerrero's Colombian parents attempt to pursue a legal path towards citizenship. For years, they pay taxes, work several jobs, put their kids through school and give thousands of dollars in fees to so-called immigration attorneys only to discover they've been conned. After the sudden deportation of her parents, 14-year old, U.S. citizen Guerrero is left with friends of the family to fend for herself.
Guerrero's story is moving and fraught with so much adversity. But, the book is unfortunately really poorly written. And, I'm not just talking about the typos, of which there were several. To be fair, Guerrero isn't a writer by trade. She was an actress on the show "Orange is the New Black" and her story might be better served in an audiobook format where Guerrero can speak colloquially and deliver her sense of humor that dominates most of the book.
Take for example an upsetting chapter where Guerrero discusses self-harm and two attempts of suicide after struggling with crippling debt and deep depression. Inexplicably, she decides: Hey, I know I was literally just about to jump off this building but let's start the next page with a full-page picture of me in a corset from my bartending days. *Insert nervous laughter* K, thank you.
Bad Feminist: Essays by Roxane Gay
My rating: 2 of 5 stars
I realize Roxanne Gay is the patron saint of #Bookstagram – so it's really hard to be in opposition of near universal praise and admit this just wasn't that good. In this essay collection, there are a few gems where Gay talks about how we talk about rape, victims and their predators and other essays where she discusses gender trends in pop culture. But, she made me read through a lot of other bloggish garbage just to get to them.
This book felt like genuine work – I'd slog through an essay about competitive Scrabble tournaments (in which there's one instance of a player surprised that she's a female player – ok wow, talk about your average Tuesday) just to get to an essay full of concepts that I'm already in agreement with. Who are these essays actually for? Then, I have to putter through her insane praise of The Hunger Games, a triumph of complex story-telling apparently (what?), while she takes a big ole' dump on the 50 Shades of Grey series because of shit we have collectively (mostly) recognized as problematic. Is this what it means to be Bad Feminist?
Like most blog posts, this is a very of-the-moment essay collection that now feels dated and petty. At least the audiobook narration was legit.
---
8 books is not a bad way to kick off the year! Tell me about your reading plans for 2019 or if you've ready any of the books above. You can find me on Instagram and Goodreads.